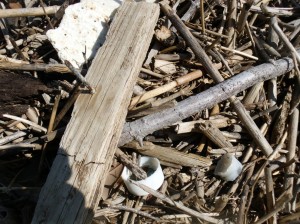 Photo by Rudy Socha shows a rusty and corroded nail in a water weathered 2 x 4 next to foam, bottle cap and plastic drink bottle pull valve.  One of the many hazards involved in cleaning rural beaches.
  Many of the companies listed below provided their time and services to help us reach this level.  Some gave us employees to serve on our board, help with cleanups, and provide web and graphics assistance.  We appreciate everyone's support and encourage you to support their business by buying their products and services.  
Companies Who Support Wounded Nature
843 Digital  http://www.843digital.com/
Alexandria Zoo http://www.thealexandriazoo.com/
AmerisourceBergen  http://www.amerisourcebergen.com/abc/
Atlanta Hawks  http://www.nba.com/hawks/
Andres Orozco Photography  www.andresoroz.com
Aqua Resorts http://www.aquaresorts.com/
Avocet Properties  www.avocetproperties.net
Bacardi USA  www.bacardi.com
Barefoot Wine http://barefootwine.com/
Bert's Market 
http://bertsmarket.com/
Beverly Ford Evans  
www.beverlyfordevans.com
Boeing 
http://www.boeing.com/
Brown Forman  
http://www.brown-forman.com/
Buffalo Bills  
http://www.buffalobills.com/
Bulldog Gin 
www.bulldoggin.com
Bull Frog Sunscreen 
http://www.bullfrogsunscreen.com/
Bush Law Group SC  
http://www.bushlawsc.com/
Carhartt 
http://www.carhartt.com/ 
Carolina Shuckers  
www.carolinashuckers.com

Cart Logic  
https://cart-logic.myshopify.com/
Charleston Angler 
http://www.thecharlestonangler.com/
Charleston Center for
Photography 

www.ccforp.org
Cision  
www.cision.com
CleanItSupply.com  
www.cleanitsupply.com/
Cleveland Browns 
http://www.clevelandbrowns.com/
Craig Technologies  
www.craigtechinc.com
Cummins  
http://www.cummins.com/
Dallas Mavericks  
http://www.nba.com/mavericks/
Desert Sun Writing, LLC 
www.DesertSunWriting.com
Denishia Macon   
www.macondesigns.wix.com/portfolio
Equus Hotel – Hawaii  
http://equushotel.com/
FedEx  
http://www.fedex.com/
Fujifilm  
http://www.fujifilmusa.com/
Golden State Warriors  
http://www.nba.com/warriors/
Google  
https://www.google.com/
Green Mountain Coffee 
http://www.greenmountaincoffee.com/
Guy Harvey 
http://www.guyharvey.com/
Harris Teeter 
http://www.harristeeter.com/
Houston Texans 
http://www.houstontexans.com/
ICom  
http://www.icomamerica.com/en/
I Mix Productions  
http://imixproductions.com/
ISOindustries  
http://www.isoindustries.com/
JOB2SEA 
http://www.job2sea.com/
Kathie Pieloch Voiceovers 
www.Qvoxvoiceworks.com
Katrina Riabokon Photo & Design  
www.cargocollective.com/monokat
Keurig 
http://www.keurig.com/
Kent WaterSports
http://www.kentwatersports.com/About+Us/55
Kristen Costello Photography  
www.flickr.com/seantrent
KRL Corporation  
www.krlcorporation.com
Leonard and Jerry Greenbaum Family Foundation
Lockheed Martin 
http://www.lockheedmartin.com
Lowrance/Navico 
http://www.lowrance.com/en-US/
Mark Kelso – Artist   
http://www.markkelsoart.com/
Maxine Sims Productions 
maxineksims@gmail.com
Memphis Grizzlies  
http://www.nba.com/grizzlies/
Mills House Hotel  
http://www.millshouse.com/
Monterey Bay Aquarium 
http://www.montereybayaquarium.org/
Nashville Music Guide 
www.nashvillemusicguide.com
Nashville Zoo  
http://www.nashvillezoo.org/
New York Knicks 
http://www.nba.com/knicks/
New York Jets 
http://www.newyorkjets.com/
Paul O. Collition Studio Inc. 
www.collitonstudio.com
Pepsi 
http://www.pepsi.com
Perry & Neblett, P.A.  
http://perryneblett.com/
Pittsburgh Steelers  
http://www.steelers.com/
Publix Super Markets 
http://www.publix.com/
RP Graphic Solutions  
http://rpgraphs.com/
Skull Candy 
http://www.skullcandy.com/
Smiling Sherpas  
www.smilingsherpas.com
Squid Anchors  
http://www.thesquidanchor.com/
St. Augustine Alligator Zoological Park 
http://www.alligatorfarm.com/
Sun & Skin Care Research 
http://www.sscrllc.com/
Tammy Sarbazzadeh Animation  
http://tahminehs.com
Taylor Made Products
http://www.boatcovers.cc/cgi-bin/catalog.pl?item_id=11
Tennessee Aquarium 
http://www.tnaqua.org/Home.aspx
TideLine Outfitters  
www.tidelineoutfitters.com
Tides Folly Beach 
www.tidesfollybeach.com
Trash Gurl 
http://trashgurl.com/
ULine
http://www.uline.com/
Under Armour  
http://www.underarmour.com/shop/us/en
Virginia Living Museum 
http://www.thevlm.org/
Vision-Ease   
http://www.vision-ease.com
Wyndham Hotel Group  
http://www.wyndhamworldwide.com/
Veterans Who Support Wounded Nature
Patrick Brent, USMC Yale Cordage  
http://www.yalecordage.com/ 
    Kimberly Bush USAF
Carol Craig, USN
Tim Day, USMC
Andy Dunaway, USAF
Susan A. Gregory, USAF
Tripp Hays, USA
Lee Kelley, USA
Gene Kern, USMC
James D. King, USMC
Don Knauss, USMC
Mal Mixon, USMC
Stacy Pearsall, USAF
Jerry Ravino, USMC
B.M. (Skip) Sack, USMC
James Skidmore, USMC
Frederick W. Smith, USMC
Ron Sprinkles USA
Robert  J.  Stevens, USMC
Jeff Stevenson, USN
Kevin Sullivan, USN
Louis Winoski, USAIf you wish to make a donation and have your company or name added to this list, go to:  
http://woundednature.org/support-us/donate/