We were able to return the south end of Daniel Island to its original pristine condition.  This was a fairly lightweight cleanup since there was more trash than debris in this area.  This area is an oyster rookery and critical to South Carolina's shellfish population.   In addition to removing a lot of foam and plastic, our volunteers removed a substantial amount of fishing line, ropes, netting, and the remnants of a crab trap.   All of these items had they been left in place they would have served to capture and hold animals in place causing them to slowly starve to death.
Sponsors who made the cleanup possible:
Adventure Harbor Tours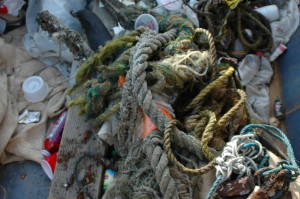 All Around Tires
Bacardi
Charleston Resort Marina
Liquid Culture
Petra Metals
Participating companies:
Boeing
Cummins Inc.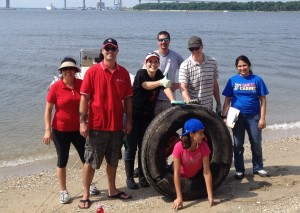 Participating Government Agencies
SC DNR
Charleston County Park & Recreation Commission
Results of the cleanup:
Amount of trash and debris collected:
Volume: 8 cubic yards in the dumpster
2 tires equaling another .5 cubic yards taken by a tire retail store for disposal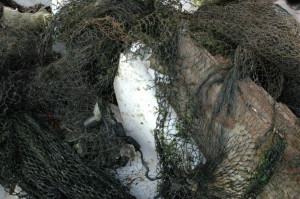 Weight:  Dumpster – net weight 2,200 pounds
Tires – 100 pounds
Contents of trash collected:
NOTE: We did a much better job of inventorying the trash and debris collected on this cleanup.  As always a number of interesting items were found.  Some pieces of debris that are found make sense like articles of clothing that can blow out of a boat, whereas other items like an orange road barricade or the back half of a TV make you wonder – "how did that end up on this stretch of coastline?"
Trash and Debris Inventory: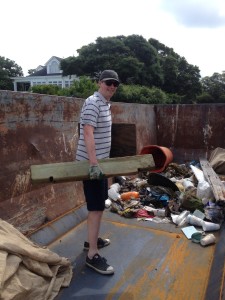 1 pair pants
6 shoes
2 hats
1 towel
19 pieces fishing line
4 fishing bobbers
3 nets
24 rope
3 misc fishing related items
464 pieces of foam
32 glass beverage containers
52 misc glass items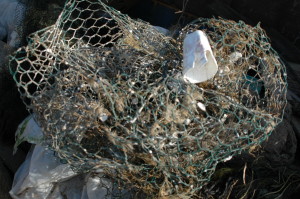 1 light bulb (unbroken)
5 metal beverage containers
4 Styrofoam blocks
23 paper and cardboard items
3 balloons
46 plastic bottles
9 detached bottle caps
44 food wrappers/containers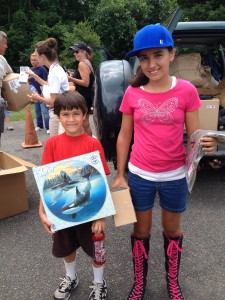 71 single use bags
9 straws
2 plastic utensils
4 cigarette lighters
7 plastic tarps/sheets
26 misc plastic items
2 balls
9 misc rubber items other than tires
32 wood items
27 pieces of snow/sand fencing
1 orange road barricade
1 partial roll of bubble wrap
1 solar panel
1 boat seat
1 dog bowl
1 door mat
1 Dallas Cowboys hard hat
1 crab trap (mangled)
1 trash can lid
1 back of a TV set
Media coverage of the event:
http://www.abcnews4.com/clip/10245840/wounded-nature-works-to-clean-lowcountry39s-shores
http://www.charlestonscoutdoors.com/the-hidden-trash-line/