This cleanup was very challenging. For everyone who braved 95 degree temperatures and 91% humidity to assist, a special thanks is given. Considering we had equipment deficiencies and lacked enough volunteers to cover a very large area, I was surprised by what we were able to actually get off the island. I went to Remley Point the day after to look in our dumpsters to see what actually made it off the island and was pleasantly surprised by what we had accomplished. After digging around for a while in the dumpster, I have a rough inventory of the trash and debris removed. When I arrived at the Remley Point boat ramp on Sunday there was a dead body in the water with the police and a forensic team around it.
Carnival Cruise Lines provided a donation allowing us to buy our own jon boats to be used as trash barges, a trailer and associated equipment.
Sponsors who made this cleanup possible: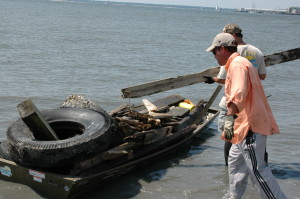 Adventure Harbor Tours
All Around Tires
Bacardi
Carnival Cruise Lines
Liquid Culture
Patriots Point
Petra Metals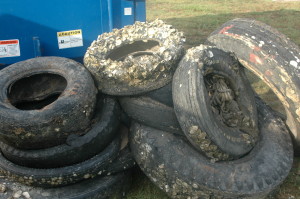 Participating companies who had participating volunteers:
Boeing
Cummins Inc.
Liquid Culture
Petra Metals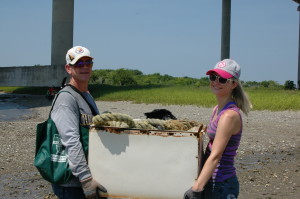 Participating Government Agencies
SC DNR
Charleston County Park & Recreation Commission
SC Ports Authority
Results of the cleanup:
Amount of trash and debris collected: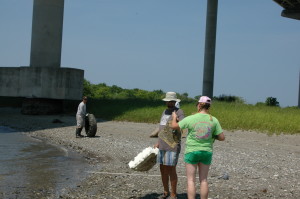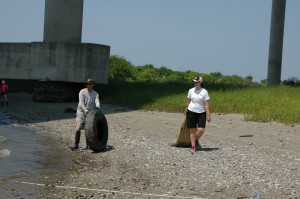 Volume: 12 cubic yards including tires.
 Trash and Debris Inventory:
1 hat
15 pieces of rope
3 misc fishing related items
51 pieces of foam
96 glass beverage containers
17 metal beverage containers
18 paper and cardboard items
31 plastic bottles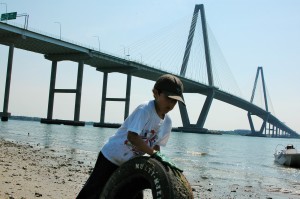 4 detached bottle caps
6 styrofoam cups
4 plastic cups
21 food wrappers/containers
19 single use bags
5 cigarette lighters
9 plastic tarps/sheets
73 misc plastic items
3 balls
6 metal cable
2 pvc piping
3 metal pipes
4 misc rubber items other than tires
65 wood items
10 tires
1 plastic step stool
1 buoy beacon
1 hubcap
1 mini fridge
1 brush
Media coverage:  http://www.postandcourier.com/article/20140704/PC16/140709833/1177/wounded-nature-seeking-volunteers-donors-for-future-cleanups