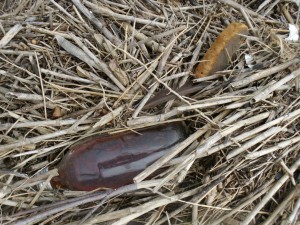 Stock that has increased in value is one of the most popular assets used for charitable giving, once it has been held for a minimum of one year. Making a gift of securities to Wounded Nature – Working Veterans offers you the chance to help our organization while realizing many important benefits for yourself.
Wounded Nature – Working Veterans will accept shares and ownership positions in privately held companies.
To donate stocks or mutual funds to Wounded Nature – Working Veterans, you can contact: Rudy Socha at Wounded Nature rudy@woundednature.org, ph 440-452-1042
If you have a privately owned company and need an evaluation or appraisal, please contact Ron Stramberg, ASA at rstramberg@ktsvaluation.com, ph 301-881-8360.
The information on our Web site is not intended as financial or legal advice. Please consult your own qualified advisers as you consider philanthropic gifts.
Photo:  Glass bottle and foam chunks among high tide debris.  Taken by Rudy Socha.