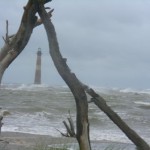 The Fox News Channel has rescheduled the (live broadcast) Fox & Friends Weekend remote with Rick Reichmuth at Folly Beach, SC.  Circle March 11th on your calendar to watch or participate.  The original event was scheduled for February 19th .  Due to the severity of forecasted storms, Fox became worried about the audience attending the live broadcast and cancelled the remote on the afternoon before the show.  During the overnight hours, the Greater Charleston area received the most rainfall since last spring.
I tried to notify as many people as quickly as I could, but as luck would have it, I could not get my screen to come up on my laptop.  This prevented me from having access to contact information for a lot of people I had asked to watch or attend the broadcast.  I was unable to get this computer issue resolved until more than 48 hours later.
To all of the people who came out in the cold rain to support us, thank you for doing so and on behalf of Fox and myself: we are sorry if you were inconvenienced by the cancellation.
I want to thank our scheduled guests: Mayor Tim Goodwin: Board members Stacy Pearsall, Kimberly Koth, Jeff Stevenson and South Carolina Aquarium's Sea Turtle Rescue Program Manager, Kelly Thorvalson.  I hope everyone will be available once again on March 11th.
A special thanks to the Charleston Post and Courier's Tom Clifford and Dave Munday for publizing Fox's visit, promoting us, and inviting their readers to turn out for this event.
http://www.postandcourier.com/news/2012/feb/18/fox-crew-to-visit-folly/
I would also like to thank my daughter Kelly, and her friends Jason and Tarrah who took time off from work and drove down from Ohio to assist with the live remote.  Also, my girlfriend, Sue and all of her family who gave up their weekend to show support for and assist Wounded Nature – Working Veterans.  Thanks Greg, Tiffany, Gage, Kevin and Crystal.  All of us made the best of the bad weather by attending Folly Gras and took full advantage of not having to get up at 5 am for the show.
After this weekend's dry run, we are optimistic and very much looking forward to Rick Reichmuth's visit to Folly Beach, March 11th
Rudy Socha
rudy@woundednature.org