After two previous weather cancellations, a small craft advisory, brisk weather, and some blustery weather did not deter our volunteers from getting to Lighthouse Island inside the Cape Romain Wildlife Refuge.  The reality for those who participated was that it was a perfect day for an adventure.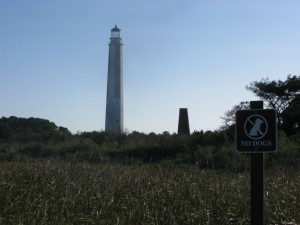 About Cape Romain Wildlife Refuge
Established in 1932 as a migratory bird refuge, Cape Romain NWR encompasses a 22-mile segment of the southeast Atlantic coast. The refuge consists of 66, 306 acres which include a fascinating expanse of barrier islands, salt marshes, intricate coastal waterways, long sandy beaches, fresh and brackish water impoundments, and maritime forest.
From the Sewee Indians to pirates, from a Confederate tower to two nineteenth-century lighthouses, Cape Romain National Wildlife Refuge houses a rich history across the refuge's maze of tidal creeks, marshes, and barrier islands.
Due to some last minute cancellations by volunteers and boats not being available, we were unable to multi-task to clean the main beach and clear brush around the closed lighthouse.   This is an area which is very tide dependent for access.   Given the tight tide timetable we worked on cleaning the beach dunes and looking for orphan crab traps.
The area of Lighthouse Island we cleaned is a long narrow strip that washes over in extremely bad weather.  This causes loose trash and debris to wash off the island during storms unless it becomes entangled in the brush.  Most of the trash and debris we collected was from shore bird and sea turtle nesting areas within the sand dunes.
As a result of this constant cleansing, the area of this island we cleaned was relatively clean compared to many other places we have worked.  We quickly realized where most of the ocean trash accumulates is in some of the harder to access areas that have never been cleaned  closer to the middle of the island.  The next time we visit this refuge, we will work on these areas.
One other big reason that this island is relatively clean is that every time a Fish and Wildlife Wildlife Service boat or turtle survey team visits an area, they pick up debris and trash and bring it back with them.  As recent as 4-5 years ago these beautiful beaches contained discarded TVs, tires, and other miscellaneous debris items.
On this trip we did find a couple of crab traps and a wide assortment of trash and debris.  The majority of this trash and debris was in the dunes and bushes 10-40 yards off the beach.
After this cleanup, we now have a much better of idea of how and where we can help this wildlife refuge.  A special thanks to Chris, Jennifer and April from Fish and Wildlife Service who gave up their Saturday to join us in cleaning the refuge.  And a special note regarding Jennifer – not only is she carrying the FWS load in the photo below, but she can back a boat trailer down the ramp in one shot.