Media Coverage of Our Cleanup Events
Current Release
Wounded Nature Hires New Florida Director
 CHARLESTON, South Carolina (April, 2017) — Wounded Nature – Working Veterans has hired Army Veteran, Justin Willis, to serve as full-time Florida Director. In this position, Justin will
organize volunteers to clean trash and debris from the many miles of Florida's rural coastal areas that have never been cleaned as most of America's critical coastal wildlife habitats are collection points for trash and storm debris. Most wildlife tends to nest and inhabit the coastal areas that are hard to access and many can only be reached by boat.
Hiring Army Veteran Willis as the new Florida Director was made possible by a fundraising campaign in partnership with national retailer Party City, which took place last December. In conjunction with the partnership, Party City also launched an educational campaign aimed at encouraging customers to properly tie down and dispose of balloons in an effort to prevent them from ending up in waterways.
"Wounded Nature – Working Veterans is extremely pleased to work with Party City as an environmental partner and supporter, said Rudy Socha, CEO, Wounded Nature – Working Veterans. "Party City has already proven to be an environmental leader within their market.
Anyone interested in volunteering or financially supporting Wounded Nature's Florida mission can contact Justin at: Justin@woundednature.org. To report a coastal area that needs to have treated wood, tires, trash and debris removed from it, please send an email to: CleanupNeeded@WoundedNature.org
About Wounded Nature – Working Veterans
Wounded Nature – Working Veterans an IRS approved 501c3 national non-profit.  Wounded Nature assembles volunteer boaters and veterans to remove debris from hard to access coastal wildlife areas.  Their work results in increasing the amount of domestic fish, shrimp and shellfish stocks.
About Party City
Party City Holdco Inc. is the leading party goods company by revenue in North America and, we believe, the largest vertically integrated supplier of decorated party goods globally by revenue. The Company is a popular one-stop shopping destination for party supplies, balloons, and costumes. In addition to being a great retail brand, the Company is a global, world-class organization that combines state-of-the-art manufacturing and sourcing operations, and sophisticated wholesale operations complemented by a multi-channel retailing strategy and e-commerce retail operations. The Company is the leading player in its category, vertically integrated and unique in its breadth and depth. Party City Holdco designs, manufactures, sources and distributes party goods, including paper and plastic tableware, metallic and latex balloons, Halloween and other costumes, accessories, novelties, gifts and stationery throughout the world. The Company's retail operations include over 900 specialty retail party supply stores (including approximately 140 franchise stores) throughout North America operating under the names Party City and Halloween City, and e-commerce websites, principally through the domain name PartyCity.com.
Sinking Your Empties?
This is the Problem
Boaters are visiting outer islands and rural beaches to picnic and  party. Unfortunately many are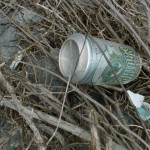 leaving their empties and trash behind.   Many fishermen aboard boats are also tossing their beer empties  overboard rather than allowing them to accumulate onboard. Even some  sailing vessels are now tossing their wine bottles overboard.
We Know Why
Boaters are afraid to return with a boat full of empty alcohol  containers. Boaters know that doing so invites a DUI check if they  encounter law enforcement along the way back or when they reach the  docks.
Do You Have a Creative Solution?
We would like to hear from law enforcement on some creative solutions for reducing this problem. Saying the boat driver should not be drinking is obvious but not a creative solution to the problem.
Please Send Me an Email with Your Solution
Rudy Socha, CEO, Wounded Nature – Working Veterans,
rudy@woundednature.org