Media Coverage of Our Cleanup Events
Sinking Your Empties?
This is the Problem
Boaters are visiting outer islands and rural beaches to picnic and  party. Unfortunately many are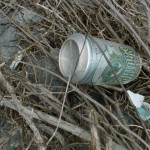 leaving their empties and trash behind.   Many fishermen aboard boats are also tossing their beer empties  overboard rather than allowing them to accumulate onboard. Even some  sailing vessels are now tossing their wine bottles overboard.
We Know Why
Boaters are afraid to return with a boat full of empty alcohol  containers. Boaters know that doing so invites a DUI check if they  encounter law enforcement along the way back or when they reach the  docks.
Do You Have a Creative Solution?
We would like to hear from law enforcement on some creative solutions for reducing this problem. Saying the boat driver should not be drinking is obvious but not a creative solution to the problem.
Please Send Me an Email with Your Solution
Rudy Socha, CEO, Wounded Nature – Working Veterans,
rudy@woundednature.org