Charleston Harbor Resort and Marina to Host First Cleanup of 2014
The first boater cleanup of 2014 scheduled by Wounded Nature – Working Veterans, will be hosted by the Charleston Harbor Resort and Marina.
Wounded Nature has targeted Drum Island as its first Charleston area boater cleanup for 2014. Drum Island is located under the Ravenel Bridge.
"Many visitors to Charleston walk the Ravenel Bridge and look down as they admire the bridge's panoramic view" states Rudy Socha, CEO of Wounded Nature. "Unfortunately, during low tide, they see an island with a coastline littered with trash. In April there will be close to
50,000 pedestrians participating in the Cooper River Bridge Run, and this cleanup will provide any runners during that event with a pristine view of the island."
Additional volunteer boaters and donations are needed are needed for this event. The cleanup will take place on Saturday, March 15th, and boaters are asked to gather together at the Charleston Harbor Marina at 11am for a sign in and briefing. After the cleanup, there will be a cleanup party that will include prizes awarded for most unique items found and all volunteers will be entered for some great door prizes. Several prominent companies including Boeing, Cummings, and Barefoot Wine have committed to providing volunteers to aid in this much needed cleanup.
"The Charleston area is a historic coastal destination and as such we need to be stewards of the land. The cleanliness of the coast is a very important factor in our region's continued growth and success as well as a chief concern to me both professionally and personally," states Oliver Rooskens, General Manager of the Charleston Harbor Resort and Marina. "We are very happy to be part of this community initiative and in helping ensure that Charleston continues to be a well preserved and beautiful destination for visitors and residents for years to come."
Details of the cleanup are available online at: www.woundednature.org
About Wounded Nature – Working Veterans
Wounded Nature – Working Veterans is a national 501c3 non-profit using volunteer boats and manpower to clean up debris and trash left behind by boaters on outer islands and rural beaches. They also clean up coastal disaster debris. WNWV is the only organization working year round on a NATIONAL basis to address this problem. www.woundednature.org
About Charleston Harbor Resort and Marina
With its own full-service marina on Charleston's Historic Harbor, we are located on Patriots Point, Mount Pleasant, adjacent to the USS Yorktown.
Charleston Harbor Resort and Marina offers a 459-slip marina, water-taxi to downtown Charleston, and a complimentary trolley ride to the Historic District. Dining options include Charleston's premier seafood restaurant, "The Charleston Harbor Fish House," with unmatched views of Charleston's skyline, the Yorktown, and the Ravenel Bridge. www.charlestonharborresort.com www.charlestonharbormarina.com www.charlestonharborfishhouse.com
Feedback From Boaters on "Sinking Your Empties"
Charleston, SC, October 1, 2013 – This spring Wounded Nature – Working Veterans (www.woundednature.org) asked boaters what could be done to encourage all boats to return to the docks with the beverage containers they departed with. The reason the discussion was started is because some boaters fear an Operating While Intoxicated check if they return to the docks with a cooler or boat full of empty adult beverage containers. To avoid this situation, these boaters are either "sinking their empties" or leaving them behind on remote picnic/party coastal areas. Other pieces of remote coastal litter are the result of people who are just plain lazy or have piggish habits.
Rudy Socha, CEO of Wounded Nature states "We received a lot of feedback over this issue. The majority of those who took the time to reply felt that more penalties and law enforcement was necessary. I personally disagree with any solution that involves more laws and regulations. Here are the suggested solutions we received:"
– Make the littering fine and penalty exceed the "Operating While Intoxicated" penalty.
– Have all boat launch ramps and marinas issue a "trash departing ticket" showing the number of plastic bags, beverage containers, and snack wrappers leaving in the boat. Checkers would do an inbound count upon return to the docks.
– Place cameras at remote party areas.
– Offer paparazzi awards to photographers who can catch boaters in the act of littering.
– For Wounded Nature to offer at a nominal fee ($10.00) a boater "no litter" pledge decal.
– Accredit marinas who are willing to check each returning boater to make sure they brought their trash back with them. Provide an accreditation process and signage that would let boaters know that if they engaged in trashing our waterways they would no longer be welcome at that marina.
Do you think implementing any of these measures will actually fix the problem? If so, which one and why? Do you have an alternative or better defined solution? If so, please send Rudy Socha an email (rudy@woundednature.org) and let him know.
Close to 3 Tons of Debris Removed From Local Coastal Areas
Charleston, SC, August 26, 2013 – Small boats from the Charleston area working in concert with Hanckel Marine and Wounded Nature – Working Veterans removed 3 tons of debris from our local coastline.
Some of the unique items found during this cleanup included a dolphin skeleton, wallet belonging to someone who died a couple of years ago, a porcelain toilet, and a refrigerator door. Fran Rowley who collected the refrigerator door from Drum Island under the Ravenel Bridge stated "There is just so much debris out there, I am not sure how much of an impact we really made".
For that reason Milo Hanckel, owner of Hanckel Marine and Rudy Socha, CEO of Wounded Nature are already planning next year's cleanup.
"Many of these areas have been accumulating trash for the past 20-30 years" states Rudy Socha. "Because of these many years of neglect it will take years to return these areas to their pristine condition. Unless you actually walk the high tide lines on these outer islands and rural coastlines, you cannot appreciate the volume of trash that has accumulated."
"We appreciate the time, money and effort that the Hanckel family, their customers and friends put into both the cleanup and the party they hosted after. Next year's event will be even bigger and better. Boaters who are interested in participating in next year's cleanup can get placed on the email notification list by sending us an email at: rudy@woundednature.org"
Boaters Needed for a Charleston Cleanup
CHARLESTON, SC – August 7, 2013 – On August 24th Hanckel Marine and Wounded Nature – Working Veterans will be cleaning Charleston's hard to reach coastal areas. There are many coastal areas around Charleston that have collected trash and have never been cleaned due to their boat only access. These are areas that should offer a pristine and quiet spot for a remote picnic or sunbathing.
Prizes will be awarded for 5 categories regarding unique trash collected by the participants.
One of the reasons trash accumulates in these remote areas is that many boaters do not want to transport or return to the dock with empties. As a result, they not only leave their empties in these remote locations but many times they also leave the rest of their boat trash behind.
Immediately following the cleanup, Hanckel Marine will be hosting a cleanup and customer appreciation party at Island House on Johns Island. This facility is accessible by both car and boat. The party will be family friendly and include free food, beverages, entertainment, educational booths and inflatable play areas for children. Admittance to the party is one bag of coastal trash per car or boat or a donation to Wounded Nature. Everyone attending will be eligible for some spectacular door prizes.
Interested boaters can obtain details online at: http://woundednature.org/attend-our-party/ The first 25 boats who commit to participate will receive T-shirts and decals.
About Hanckel Marine
Hanckel Marine, www.hanckelmarine.com is a full-service boat dealership located in Charleston, SC that offers new and pre-owned sport fishing, fish 'n ski, walk around, flats, skiffs, center consoles and bay boat models for sale ranging from 12′ to 28' from Contender, Carolina Skiff, Sportsman & G3 powered by Yamaha outboard motors. Since it's founding over a decade ago Hanckel Marine's goal has been to assist the saltwater enthusiast in selecting boats with a world-class reputation for quality sales, service, strength, durability and value. Hanckel Marine has one of the lowcountry's largest parts and service departments and has the distinction of being Yamaha 5 star certified.
About Wounded Nature – Working Veterans
Wounded Nature – Working Veterans www.woundednature.org is a national 501c3 non-profit using volunteer boats and manpower to clean up debris and trash left behind by boaters on outer islands and rural beaches. They also clean up coastal disaster debris. They are the only organization working year round on a NATIONAL basis to address this problem.
Sinking Your Empties?
This is the Problem
Boaters are visiting outer islands and rural beaches to picnic and party. Unfortunately many are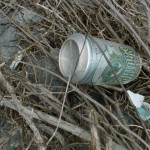 leaving their empties and trash behind. Many fishermen aboard boats are also tossing their beer empties overboard rather than allowing them to accumulate onboard. Even some sailing vessels are now tossing their wine bottles overboard.
We Know Why
Boaters are afraid to return with a boat full of empty alcohol containers. Boaters know that doing so invites a DUI check if they encounter law enforcement along the way back or when they reach the docks.
Do You Have a Creative Solution?
We would like to hear from law enforcement on some creative solutions for reducing this problem. Saying the boat driver should not be drinking is obvious but not a creative solution to the problem.
Please Send Me an Email with Your Solution
Rudy Socha, CEO, Wounded Nature – Working Veterans,
rudy@woundednature.org
At the end of summer, this publication will print the results of the most creative solutions we received. We have also asked boating magazines to ask boaters for their solutions as well.
Wounded Nature – Working Veterans (www. Woundednature.org) is a Charleston based 501c3 non-profit using volunteer boats and manpower to clean up debris and trash left behind by boaters on outer islands and rural beaches. We also work to address coastal storm debris and help
after natural disasters. We are the only organization working year round on a national basis to address these problems.
Until we can locate sponsors for boats we are limited to being able to tackle about 10% of the coastal areas needing our assistance. Once financed, our boats will be staffed by veterans. Currently our clean-up efforts are limited based on available volunteer boats and workers for
each project.
Some boating, fishing and law enforcement magazines working to address this problem are:
Njbluenow.com
Nybluenow.com
Ddvradio.com
www.floridasportsman.com
http://www.activistangler.com/
www.FloridaSportFishing.com
www.ASOMagazine.net
www.lsonews.com
www.hooksandbullets.com
www.apbweb.com
www.TheFisherman.com
http://www.backwoodsmanmag.com
marylandwatermen.com
http://www.adirondackdailyenterprise.com
www.sportfishigmag.com
evidencemagazine.com
www.anglersforconservation.org
Our donated Wall Street Journal Advertisement
An open letter to CEO's, majority shareholders, and high net worth individuals: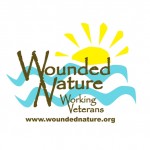 Our Charleston, SC based, national 501c3 non-profit organization, Wounded Nature – Working Veterans puts people to work to clean up hard-to-access, high-environmental-impact, coastal areas to remove hazards which damage the marine ecosystem. We do this in two ways:
• Enlisting volunteers to conduct clean-up events, and
• Employing veterans as crew-members on shallow-draft watercraft to conduct clean-up operations in coastal estuaries, and rural beach areas. The unemployment rate for veterans of all ages remains stuck at rates substantially higher than the national average.
We are seeking funding to acquire watercraft and pay operating expenses in order to take the fight into the less visible, yet highly vulnerable areas, while enabling our working veterans to find meaningful employment and transition into the private sector. As they make a measurable impact on the environment, our veterans receive exposure to the corporate job market for eventual transition to full-time employment.
Each one of our boats needs a corporate sponsor. Each sponsored boat will be skinned with the sponsor's brand and will generate close to a billion media impressions through its crew's work, port festivals, and public appearances.
Every year, hundreds of thousands of sea turtles, dolphins, sea birds, and other marine life are consumed by the sea. We know that some of these species perish from litter and trash ingestion. This causes a slow, painful, and gruesome demise. When sea creatures become sick, they leave the shore areas to avoid predators and head out to sea. Eating shoreline debris results in intestinal blockage causing all food eaten to accumulate and form intestinal gas. Over the next couple of days, the animal is unable to eat and cannot submerge due to the gas build-up. As they float in a weakened condition on the top of the water, baking in the sun, predators discover and eat these helpless creatures alive.
Wounded Nature – Working Veterans puts the overwhelming majority of our resources toward remedial action to end this vicious cycle.
Within the non-profit sector, less than three percent of all funds and personnel are dedicated to fixing problems through remedial action. Most donations are spent on policy, research, education, recycling, and attending international conferences. Though based in Charleston, our vision is to make an impact throughout the US and, ultimately, the world-leaving it a better place for the next generations.
We're asking you to join us in making a difference by putting your brand and resources behind our cause. Our complete sponsorship proposal is available on our website www.woundednature.org. We are flexible and would love to have your support. Just give me a call (440) 452-1042, or send me an email at rudy@woundednature.org.
Rudy Socha, CEO
ADVERTISEMENT
Wounded Nature – Working Veterans, 3 Broad Street, 4th Floor, Charleston, SC 29401
This advertisement was donated to Wounded Nature-Working Veterans in an effort to assist us in reaching senior corporate executives who want to show the world they and their brand care about our environment and veterans.
Using Company Stock to Reduce Tax Obligations
Privately Held Company Stock has More Valuation Leeway than Public Stock
FOR IMMEDIATE RELEASE
Charitable donations are often times an important part of one's financial planning, as they serve the dual purpose of supporting worthy charitable organizations and reducing one's taxable income during the year of donation. However, in a difficult economic environment many corporate taxpayers may not have sufficient cash reserves to meet their annual charitable donation goals. An excellent alternative to donating cash is to instead donate stock. This manner of charitable contribution provides the added benefit of avoiding the recognition of capital gain on disposition of the stock, while at the same time allowing a deduction for the fair market value of the stock on the date of donation. In effect, one can avoid additional tax liability while taking advantage of a reduction in taxable income in the same transaction.
This manner of giving works very well for donations of publicly traded stock, but nonpublic corporations face additional challenges. Most charitable organizations will not accept donations of closely held or nonpublic stock due to the difficulty of liquidating the stock for cash. They feel that they cannot utilize a donation if they cannot convert it to cash. Some organizations, however, take a different approach by accepting donations of stock from nonpublic corporations. One such organization is Wounded Nature – Working Veterans, www.woundednature.org. Rudy Socha, CEO of Wounded Nature – Working Veterans gladly accepts nonpublic stock, and feels that the stock does have current value. As he explains, "Until a stock goes public or becomes a cashable entity, we can carry it on our books and have it work for us. We can use this stock to serve as an asset for loan guarantees. While some banks will not allow its use as collateral because of their inability to easily sell it, many others will. Although its value will be severely discounted as consideration for the loan, this in no way affects the deduction amount claimed by the donor."
The difficulty of donating the stock of nonpublic corporations lies in determining its value on the date of donation. For shares that are regularly bought and sold, whether on a public exchange or between private entities, the fair market value of the stock is simply the price that a willing buyer and a willing seller would agree to on the date of donation. However shares of most private corporations are not bought and sold on a regular basis, so there is no readily available price data to use in making this determination. Therefore, valuing stock that has no current price data requires the donor to determine fair market value by considering a number of different factors beyond simply the net worth of the corporation.
IRS guidance provides that if selling prices are unavailable, or if the corporation is closely held, fair market value is determined by considering a number of different factors. Certainly, the corporation's balance sheet and net worth are a very large part of the puzzle, but they are not the only part. Much of a stock's present value is attributable to other factors such as its potential for future profits, dividend-paying capacity and its position relative to competitors. For example, if ABC Corp. has a net yearly profit of $100,000 over 100 outstanding shares, the value of each share should be increased by $1,000 accordingly. However, if in that same year ABC Corp. is in the business of making widgets, and global demand for widgets was projected to drop significantly, the value of each share might increase by less than $1,000 to account for the negative economic outlook. On the other hand, if one of ABC Corp's primary competitors went out of business, the value of each share might increase by more than $1,000 on the potential for capitalizing on greater market share. So when valuing shares for the purpose of donation, the corporation is afforded an amount of flexibility in determining fair market value.
When valuing shares of nonpublic stock for the purpose of charitable donation one should consider the broader economic factors that paint a picture of not only what the corporation is presently worth, but also the potential for the corporation to earn future profits. Basing valuation on factors such as the goodwill of the business, a positive economic outlook for the industry, a strong position within the industry, and other economic factors means that a corporation may be more valuable than just its physical assets. By basing valuation on these factors, one can make the most of these charitable donations by taking advantage of the true fair market value of closely held stock.
While this sort of transaction is an excellent way to generate a present deduction from stock that is difficult to sell, it is not without limitations. Donations over a specific amount will require valuation from a qualified appraiser, and regardless of amount one should keep complete financial and other records upon which the valuation is based. Generally, donations must be made to qualifying charitable organizations and deductions can only be taken up to a certain percentage of overall taxable income for the year. So it is important that any taxpayer contemplating this transaction should seek the advice of a professional tax advisor before taking the deduction.
Contact:
Richard G. Bush, JD, MBA
Managing Attorney
Bush Law Group, P.C.
3 Broad Street, Suite 450
Charleston, SC 20401-3052
O. 843-300-1047 Ext. 106
F. 843-628-2403
rbush@bushlawsc.com
www.bushlawsc.com
Kata Bags Supports Wounded Nature – Working Veterans Missions
For Immediate Release
October 25, 2011
By Doug Feldner
Ramsey, NJ – We are proud to launch the Kata Have a Heart program in the United States. With this program a charity is selected and a donation will be made with each sale and registration of each Kata product. Customers purchasing a Kata product in the United States can visit www.katahaveaheart.com to register their product. For each product registered, a $5 donation will be made to the selected charity. Kata owners also get the benefit of upgrading their warranty from Kata's standard 5-year limited warranty to a limited lifetime warranty.
The charity selected for the introduction of Kata Have a Heart is a US Veterans charity called Wounded Nature. Manfrotto Bags, in conjunction with Manfrotto Distribution US (Kata's exclusive US distributor), has set a goal of donating $20,000 to Wounded Nature as part of this program. Acclaimed photographer and decorated US combat veteran Stacy Pearsall played a part in the selection of a veterans' charity. According to Bill Drysdale, Managing Director of Manfrotto Distribution US, "Stacy's moving work as a combat photographer and unwavering support of veterans and veterans' causes served as an inspiration for the program."
Wounded Nature – Working Veterans is a Charleston, SC based 501c3 non-profit focused on cleaning beaches, promoting recycling and assisting veterans to obtain their first civilian job. Starting in 2012 they will have 5 houseboats utilizing veterans to clean beaches, visit military bases and hospitals, and educate the public about recycling and littering at port festivals on the East Coast. Each vessel will represent a separate branch of the service and have its own sponsor.
Rudy Socha, CEO of Wounded Nature – Working Veterans states "This is a perfect fit for both of our companies. Our work cleaning beaches and protecting wildlife will benefit wildlife photographers. The public relations work our veteran's perform to educate the public about reducing litter everywhere will improve photo shots for all photographers."
To learn more about Wounded Nature or make a donation to this worthwhile charity, visit www.woundednature.org