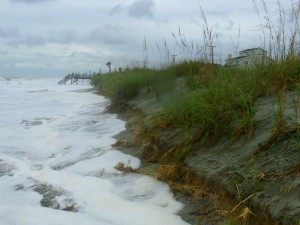 Once we have our own boats and full time crew:
Our coastal boats shallow draft vessels making them ideal vehicles to deliver equipment, supplies, and personnel to areas that are inaccessible by land. This will allow us to transport a large quantity of fresh water  that could be taken ashore quickly.
Wounded Nature's will be able to transport people in and out of remote and isolated areas. This is critical when the people who stay behind during a hurricane suddenly need to be rescued because the storm has shut down all of their utilities or their residence is severely damaged.
Please make a donation to Wounded Nature – Working Veterans at: http://woundednature.org/support-us/donate/
Photo:  Erosion occurring during Hurricane Irene at Folly Beach, SC.  Ocean access steps shown in background were ripped away 40 minutes after this photo was taken.  Everyone evaculated the access pier as it started to break apart.  Photo was taken between rain bands by Rudy Socha