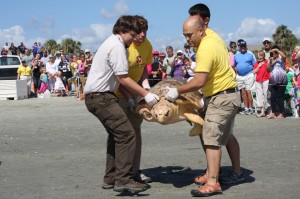 Once Wounnded Nature has obtained its own boats and full time crew:  During each segment of the trip we can offer one billet to someone working in marine research. This could include a scientist, student, aquarium curator, or book author.
The researcher will have the ability to reseach the areas we are cleaning, the waterways along our route, or any other tangent area so long as the reseach conducted will not negatively impact our schedule.
As we mature and grow, we will affiliate with some of the universities offering marine science programs. We will define and offer internships related to our clean-up and public relations work.
Room and board for the researcher would be free, however transportation costs and any associated research costs would be the responsibility of the researcher.
Photo:  South Carolina Aquarium's Marine Animal Rescue Team in action.  Photo courtesy of South Carolina Aquarium.