A true trash to treasure story.  Kris Kincaid had an old boat that was in need of repairs and Wounded Nature was in need of a trailerable small boat to scout cleanup areas and participate in the cleanups.
Thanks to a number of vendors and our volunteers we have been able to convert this to into a usable tool that will improve our planet.
Collectively, we were able to take this: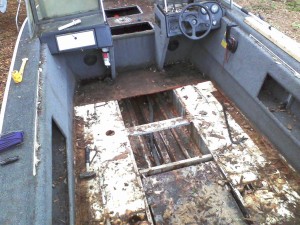 and turn it into this: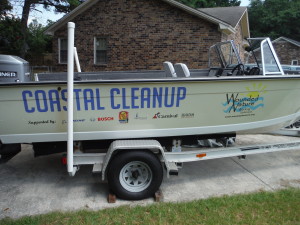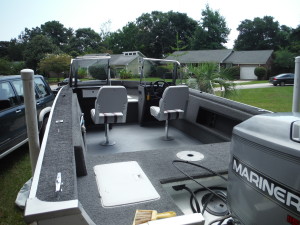 Boat update April, 2016 – after numerous problems with our Mariner motor and many requests for assistance to Mercury for assistance to no avail, we contacted Yamaha Outboards.  Yamaha immediately said they would help us and provided a replacement motor.  Hanckel Marine stepped in and provided the labor and changed out the motor for us.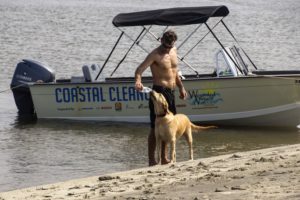 THANK YOU Yamaha Outboards and Hanckel Marine.
A big thank you to:
Keith Dairymple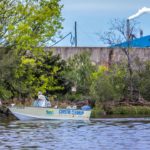 Tom Daugherty
Jonathan Georgas
Susan Gregory
Gregg Hart
Fred Herrmann
Beth Huntley
Matt Hyde
David King
Jim King
Steve Lamendola
Brian McBride
Tina Newton
Michael Olack
Greg Snyder
Lou Winowski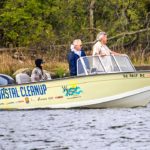 Aquatic AV
Attwood Marine Products
Bank of America
Berkeley Outdoors
Bison Branding
Boeing
Carnival
Carver Covers
Cequent Americas (Fulton Trailer Parts)
GG Schmitt
Hanckel Marine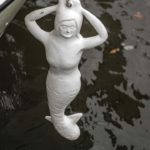 Locklears Beach City Grill
Lowrence
Petra Metals
Pilot/Flying J
Sea Star Solutions
Taylor Made Products
Tempress
Tuff Coat Manufacturing
West Marine
Xylem Inc.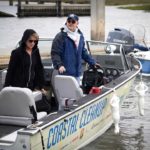 Yamaha Outboards
A special thanks to Marc Martuscello at Precision Cycle and Watercraft, 2388 Airpark Rd, North Charleston, SC 29406   ph 843-693-5398.   Marc put in numerous hours working on the old Mercury 115.  Fortunately for us, Yamaha ended our misery and provided a replacement motor that was installed by Hanckel Marine.