On Saturday, March 19th a number of organizations came together to improve Charleston's quality of life and make our planet a better place.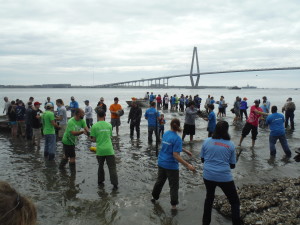 Drum Island is an uninhabited island located under the Ravenel Bridge in Charleston Harbor.  It sits at the intersection of the Cooper and Wando rivers.  The interior of this island serves as a repository for dredging that allow deep water cargo ships to access Charleston's ports.  Drum Island from the top of the dikes to the edge of the tidal water is a critical habitat for many forms of marine wildlife and birds.
On March 19, more than 200 volunteers worked on the Eastern coast of this island to remove treated lumber, rubber, plastics, trash and debris that had been slowly poisoning the harbor and wildlife in the immediate area.  In place of the removed debris a giant oyster bed was laid.  The oyster bed will serve as a very large natural filtration system for the harbor.
Participating organizations whose employees made a real difference on March 19, 2016
Adventure Harbor Tours
Boeing
Bosch
Charleston County Park & Recreation Commission
Liquid Culture
Post and Courier
South Carolina Department of Natural Resources SCORE Program
South Carolina Ports Authority
United States Air Force
United States Fish and Wildlife Service
United States Navy
Media Coverage:
http://www.moultrienews.com/article/20160324/MN01/160329865/1014
Post and Courier: