Beaufort, SC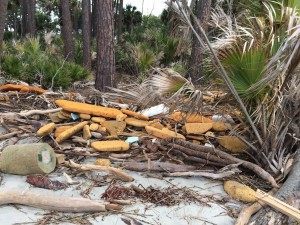 Pritchard Island
Date: April 29th
Time: 8:00 am
Meeting location:  The GPS address input for the boat ramp is:  40 Station Creek Drive, St Helena, SC
Mission:  Bagging and removing foam pieces from the high tide line on this island (photo above).
Currently, we cannot take on any additional volunteers for this project unless they have a boat and are willing to return with some trash and debris in their boat.
May 4, 2016
First Wednesday Volunteer get together and planning session.
This is a very informal gathering of our volunteers and supporters– the later you stay the more informal the evening gets.
It is a great chance to meet us and see who we are and what we do.
Charleston Harbor Fish House – for dinner and/or a beer.
BRING A FRIEND – if you know of someone who wants to volunteer, ask them to join us on Wednesday.
I hope you will come out , meet some interesting people and make some new friends.
This is a Dutch event where everyone pays their own tab.
Date: May 4, 2016
Time: 5:30 – 7:30
Info for your GPS:
Charleston Harbor Resort and Marina
20 Patriots Point Road
Mt. Pleasant, South Carolina 29464
We cannot get permits from Memorial Day through Labor Day due to the congestion at the boat ramps.  Throughout the summer we will be staging small cleanups that involve retrieving some trash and debris we had to leave behind on past cleanups.
NOTE 1:  On some of these cleanups, john boats will be on hand to tow the collected trash back to shore.
NOTE 2:  You can deduct as a charitable contribution any unreimbursed out-of-pocket expenses, such as the cost of gas and oil, that are directly related to the use of your car in giving services to a charitable organization. You cannot deduct general repair and maintenance expenses, depreciation, registration fees, or the costs of tires or insurance.
Note:  The IRS has informed us that this provision also applies for boats since it is the vehicle used to perform the volunteer service.