While the rest of the country sat in front of their fireplaces watching the "Blizzard of 2016" on their TV set a group of Wounded Nature – Working Veterans' hardiest volunteers walked out into the tidal marsh in front of Charleston Harbor Resort.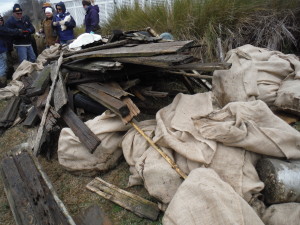 This cleanup evolved as a result of Wounded Nature – Working Veterans having monthly volunteer meetings at Fish House Restaurant, part of Charleston Harbor Resort and Marina.  While watching the beautiful sunsets over this tidal marsh, the view was marred by the treated lumber and trash that was also viewed inside this tidal marsh.
For the cleanup itself, we knew there was unsightly debris that was deadly to wildlife in this area.  But what surprised everyone about this cleanup was just how much debris and treated wood the marsh grasses were hiding.  Many of the pieces of wood were covered with rabbit poo.  For some reason, the marsh rabbits have potty trained themselves to use the trash in the marsh as litter boxes.
We went out during a full moon low tide.  That rendered this area as dry as a tidal marsh can get.  Most of the area was down to just a couple of inches of standing water and under the water was mud where you only sank down 2 -4 inches.  In some parts of this marsh you sank a little further but I think 2-4 inches deep into the mud is a good average.  All in all, pretty favorable conditions for a cleanup.
Most of the large pieces of wood were very heavy so what is seen on some of these photos is our volunteers using ropes to drag these heavy items out of the marsh.
While we removed a lot of trash, debris and treated wood, this area needs a lot more work to return Patriot's Point to its original pristine condition.
A special thanks to Charleston Harbor Resort and Marina,  specifically Oliver Rooskens, Samantha Borgen, and Chris Mitchell.  In addition to disposing of the trash, debris and treated wood we collected, they invited us to their oyster roast where we enjoyed some of the cleanest oysters any of us have ever experienced.  However, the greatest pleasure was derived from ordering full cups of warm apple cider with Crown Royal Apple from the inside bar.  Our volunteers were cold and this winter brew warmed everyone from the inside out.
Wounded Nature – Working Veterans has some awesome hard working volunteers.