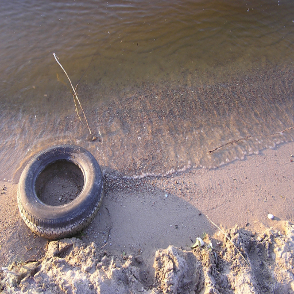 WoundedNature.org is an IRS approved 501c3 non-profit charity. WoundedNature.org's IRS non-profit EIN number is: 27-3570810. As with all donations to charity, we recommend you consult with your financial advisor regarding tax credits and deductions.
For donations of $2,000 and above, please contact Rudy Socha at rudy@woundednature.org or by phone at 440-452-1042.
Checks can be postal mailed to:
Rudy Socha
WoundedNature.org
P.O. Box 20363
Charleston, SC 29413
Make checks payable to: Wounded Nature
A receipt will automatically be sent to your email address for tax purposes.
Show the World You Made a Real Difference

Now you can show the world you helped clear our nation's coastlines of debris and trash. All levels of support are very important to us. A donor helps us fund placing a cleanup volunteer by boat on a rural coastline. What we do and where we go requires boats, equipment and a lot of people willing to get dirty and work hard under adverse conditions.
Show people your commitment to helping improve the quantity and quality of the health of America's seafood industry. The general public knows that trash and debris is bad for wildlife but do not understand why. Trash, especially plastics clogs an animal's intestinal track and within a week they have died an extremely slow and painful death. With debris such as old treated wood, arsenic and creosote slowly leeches out and poisons an area. This results in significantly reduced populations of shellfish, shrimp and young fish inhabiting areas adjacent to heavy coast trash and debris areas.
Our stickers will get people to look as all oval initialed stickers do – but ours have a twist. On first glance everyone will be able to tell is you are a donor, volunteer, or veteran by the color of the outside ring. As a donor you will be able to show the world know your level of support with your "crew" status being shown inside the ring.
This adds a fun and interesting twist as those familiar with who we are and our donor program will look up your crew status on our web site.
Click here to see all our new decals.