Italian Cowboy Harry James Sponsored Boat
Music fans around the world are being recruited to become honorary crew members for the new Italian Cowboy Harry James sponsored coastal cleanup boat.
Yes, your name can appear on the Harry James' sponsored "" boat. Just make a $20 or greater donation and you can have your name, your business' name or surprise someone by having their name appear on the "Harry James" boat.
As a National Guard veteran and someone who cares deeply about the environment, Harry and his team were looking for a way to give back and make the world a better place. When Harry James heard that Wounded Nature and Working Veterans needed to purchase 5 cleanup boats that would be staff by veterans, he contacted the non-profit immediately and said "what can we do to get one of your boats funded?"
Details: http://woundednature.org/support-us/harrysboat/
Ocean Litter Kills Wildlife.
Everyone knows that litter looks bad and has a negative impact on wildlife. What most people do not know or understand is how litter kills wildlife.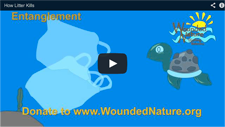 The How Litter Kills animation and all the artwork were created by Chris and Matthew Blurton. Red Bird Creative is proud to be associated with Wounded Wildlife as marine pollution is a world wide issue. www.redbirdcreative.com.au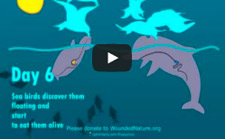 The How Plastic Caps Kill animation, artwork and editing was done by Tammy Sarbazzadeh. Tammy loves the ocean and all of the marine creatures it contains.
She hopes her video will help reduce unnecessary animal deaths. http://tahminehs.com
Who We Are?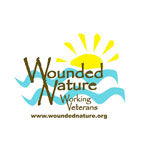 The genesis of our houseboats and our missions came prior to the gulf oil spill. The number of rescued birds, sea turtles, and sea mammals that had ingested plastic items had increased dramatically. We investigated why it was occurring and how to fix it.
We discovered that none of the clean-up non-profits wanted to work on the rural beaches and estuaries because of the travel time to and from each clean-up location. Another reason given was that it was difficult to generate publicity since most media companies would not send their reporters to rural clean-up areas.
Our proposal solves both problems. Our houseboats can be stationed immediately offshore or beached right at the clean-up area (depending on tides) delivering workers and supplies in and out of the work area in small crafts. The media will be invited to live aboard for a day or two at no cost to the media company.
Why We Are Here?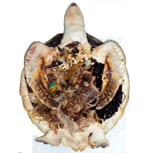 Currently most beaches and rivers adjacent to major cities are staging annual clean-ups through the use of volunteers and efforts organized by various non-profit groups. However, the areas most important to wildlife: the isolated beaches, bays, and estuaries are not being cleaned up on an annual basis.
These are crucial birthing areas for endangered and threatened species. The constant accumulation and breakdown of plastics in these critical areas builds up high toxicity levels, and kills generations of future wildlife.
What Else Do We Do?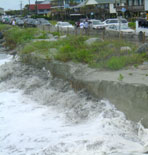 Disaster relief. Our supply ship has launch boats making it the ideal vehicle to deliver equipment, supplies, and personnel to areas that are inaccessible by land. Wounded Nature's ship maintains a large inventory of fresh water in recyclable containers that could be taken ashore quickly.
Education and outreach. Wounded Nature's staff will appear at zoos, aquariums, and schools around the country talking to the public about the need for Wounded Nature and its mission. Our talks and education programs at zoos, aquariums and schools will focus on recycling, and the impact discarded trash has on the environment.
Marine research. During each segment of the trip we will offer one billet to someone working in marine research. This could include a scientist, student, aquarium curator, or book author.
Want To Help?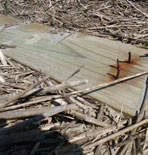 There are countless ways you can help us. As with all non-profits, generating cash flow is always the most important task. You can make a donation, become a member or encourage others to do so.
Generating publicity is the second most important component to being successful. You can become a Facebook, Twitter, and all around social marketing activist for us.
Where Are We And What Are We Doing?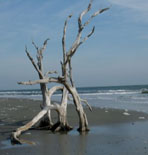 Our schedule is posted on our site and updated on a regular basis. We encourage you to come and meet us if our paths cross or you happen to be taking a vacation in a nearby area.
Donate to Wounded Nature – Working Veterans
Wounded Nature's beach clean up is stopping this toxic buildup, educating the public, and saving wildlife in the process.
Please make a donation to Wounded Nature – Working Veterans