Thirty years ago Shem Creek, South Carolina was home to over 50 shrimp boats.  Now there are less than 10.  This pattern of decline has been repeated in all of America's fishing villages.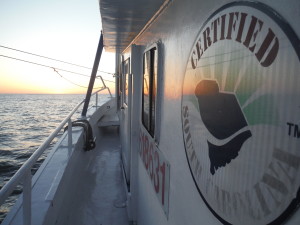 Shrimp boats and commercial fishermen represent an important segment of America's small business community.  They are some things we can be sure about regarding the decline.
Shrimp populations are not in decline because they are being overfished.  There are only 20% the number of shrimp boats that were on the water 30 years ago.
New technology does NOT help each boat to catch more shrimp.  Most of the shrimp fleet consists of very old boats using the same technology and techniques.  The only real difference is the addition of the sea turtle bars to prevent sea turtles from being caught in the nets.   This actually reduces total catch by a very small amount.
Foreign fishing vessels are not responsible for reduced domestic shrimp harvests.  Shrimp is a coastal marine critter and American shrimp do not venture out into international waters allowing the international fleets to harvest them.
Americans love to eat shrimp.  Instead of working on increasing our domestic populations, Americans buy 90% of the shrimp they consume from Asia.  Not a week goes by that there is not an impounding of a load of imports due to chemical and bacterial contamination.
Wounded Nature – Working Veterans believes we can rebuild America's seafood industry by cleaning up the nursery grounds for shrimp and seafood species.  Most critical shrimp and seafood nursery areas have never been cleaned.  They are loaded with trash and debris all the way back in the tidal marshes at the high tide line.  Each day that this remains as is, additional trash and debris collect in these areas and continues to create dead zones that are no longer able to serve as shrimp nurseries.
Shrimp Boats are an icon in the South and looked for on the horizons by tourists and locals alike when visiting coastal areas in the mornings.
In order to learn more about fact and fiction regarding commercial shrimping, I ask Captain Tommy Edwards if I could spend the day aboard the MISS JUDY TOO.  She is a 30 year old, 60 foot shrimp boat.  Captain Tommy allowed me to spend the day as a greenhorn deckhand.  That means you stay away from any ropes, cables, or overhead objects that are moving.
Captain Tommy is very fortunate to have 3 full time deckhands that have been shrimpers all their lives.  DJ, Goat, and Sean all have fantastic work habits and this is a very clean and tidy boat.  Every time a rope is used, it is coiled and placed back on its hook neatly, and the deck is washed after every net pull.
For me being on deck at 3:30 am was a bit early, but the rest of Captain Tommy's crew was already there, the motor was running and nets and chains were being repaired.  There was still some lingering wind and rough water as we left the docks.  The outside temperature was 43F as we pulled out and the water temperature was 63F.  The crew informed me that the best shrimping starts once the water temperature reaches 70 degrees F.
On a shrimp boat there is a large circular net on each side of the boat.  In front of this net is a "door" that runs along the bottom and scares critters up and into the following net.  The circular net openings on the big nets have metal bars across them to prevent sea turtles from being netted. Then there is a smaller net with a door and the same configuration called a Try net that is used to sample what is being caught in each area.  The Try net is pulled up every 20-30 minutes.  The rule of thumb used is for every shrimp caught in the Try net, there should be one pound of shrimp in the big nets and this determines when the big nets are pulled out of the water.
For me working the sorting table was a great experience.  Having been stung by a sting ray before, I made sure that I got all of the sting rays off my section of the table and back in the water before grabbing shrimp and throwing them in the baskets.  This is jellyfish season and they covered the bottom of the sort table every time the nets were dumped.  There were 3 species of jellyfish with cannonballs representing the bulk mass of what was collected.  This resulted in being coated in jellyfish slime from the chest down.  Once the rays were out of the way, the shrimp are gathered and any edible fish that conforms to size and species requirements gets thrown into baskets.  The rest of the sea life is returned to the ocean.
We had to prepare an order for a restaurant that requested 100 pounds of headless shrimp.  Everyone else was able to work their way using two hands popping the heads off of a pile of shrimp, but it is not a skill that is easily acquired.  My pile of headless shrimp was only about one third of everyone else's by the time we were done working our way through the pile.
During Shrimp season if you want to stock your freezer with the freshest shrimp available, send Tommy a text and order 10 pounds or more South Carolina shrimp fresh from the ocean.  His number is: 843/442/2970, text before 9 am, first ordered, first served every day.  He will text you on the way in.  Bring your cooler and he will have your shrimp bagged, on ice, and ready to go as soon as he ties up the boat.  April/May, 2016 price is with the head on will be $4.50 per pound.  Tell him you want the Rudy price.